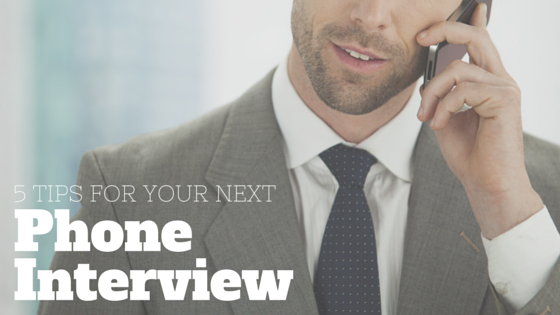 You've successfully made it through the resume submission, and now the company is interested in taking the next step by setting up a phone interview with you. A lot of people think that an interview over the phone is easier than face-to-face, but it's important to take this step seriously in order to make it to the next round of the interview process. Below, we'll outline 5 tips to help you be successful during your phone interview from start to finish.
1. Research the company and the interviewer
By looking at the company's website and checking out your interviewer's LinkedIn profile, you can be knowledgeable about recent happenings, latest awards, the company's culture, and more. If you have a better understanding of how the company operates and performs, you'll be able to better connect during your interview and show that you're interested in joining their team. Spend an hour or so before your interview to familiarize yourself. Since it's a phone interview, you can keep your laptop open in front of you to reference the company website or an interesting article.
2. Be ready to take the call
Plan to be ready for the call at least 5 minutes before the scheduled time in case the interviewer calls early. You don't want to be caught off guard if you're not in a private area. To make sure you have optimum reception, you may even consider taking the call from a landline instead of your cell phone.
3. Have the proper materials
Make sure to have a copy of your resume in front of you, as well as the job description and any notes and questions you have about the position. Your interviewer will have your resume and may ask you to walk them through your prior experience. By having your resume on hand, you'll be able to answer questions with specific experiences that relate to the job you're interviewing for.
4. Sell yourself in the best light
The last thing an employer wants to do is hire someone with a negative attitude. It's important to avoid negative comments about a former job or an employer. The past is the past, so it's important not to dwell in a bad experience or job.
Also, be sure to not exaggerate any of your technical experience. It's important to be open and honest about your abilities or lack thereof. You could say, "I know what that is and know what it does, but I don't have work experience with it. I would love the opportunity to learn it and have the ability to pick up new skills quickly."
5. Ask the important questions
Allow the interviewer to run the interview and save your questions for the end. Don't ask anything that you already know — salary, location, etc. Make sure you have a list of thoughtful questions about the position or the company. By asking questions that make your interviewer think, you show that you're serious about your job search and finding a position that's the best fit for you.
You're ready!
Now that you have a few tips for your interview, you'll be able to make a positive impression and move on to the next step of the interview process. Next steps typically include a face-to-face interview, technical aptitude screening, or even an offer if they think you're the right fit for the job. Be prepared, keep a positive attitude, and answer every question to the best of your ability, and you could be on your way to a new position!
Here at Resolution Technologies, we understand that serving our clients and consultants is what matters most and promise to never lose sight of that! We take the time to understand your individual needs through face-to-face interaction and strive to always make sure your objectives are met. Resolution Technologies is a full-service Information Technology Staffing firm offering flexible solutions for our clients ranging from contract, contract-to-perm, and direct perm placements. Whatever your needs are, we promise to provide unrivaled quality and service.
https://www.resolution-tech.com/wp-content/uploads/2015/06/CAREER-1.png
800
800
Resolution Technologies
https://www.resolution-tech.com/wp-content/uploads/2014/04/logo.png
Resolution Technologies
2015-06-15 09:05:17
2015-07-30 14:31:22
5 Tips for Your Next Phone Interview